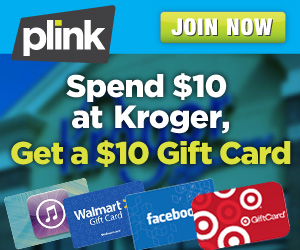 Plink Spend $10 at Kroger Get Free $10 Gift Card
New Plink offer, Spend $10 at Kroger and get a Free $10 Gift Card. Plink is an awesome Free program designed to help you earn free gift cards at places you already shop.
Check out the offers for Old Navy, McDonalds, Taco Bell, 7 Eleven, Champs, Dunkin Donuts and much more.
Private offer for new members only! Sign up for Plink today, make a $10 purchase at a Kroger location by Sunday, 8/4 11:59 EST, and we'll give you 1,000 Plink Points – enough to redeem for a $10 Gift Card of your choice at places like Amazon.com, iTunes, Target, Walmart, Kohls, Starbucks and more!
Valid only at the following Kroger locations: Kroger, Fred Meyer, King Soopers, Ralph's and Dillon's
Disclaimer: This post my contain a link to an affiliate. See my disclosure policy for more information.