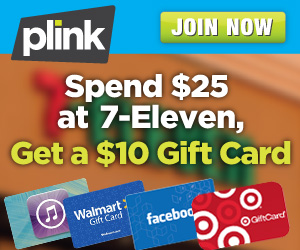 Free Slurpee Day at 7 Eleven Today Only!
Add the 7-Eleven Plink offer to your Plink wallet and earn a Free $10.00 Gift Card when you make a $25.00 purchase at 7-Eleven. Today, July 11th, 7-Eleven is celebrating their 83rd Birthday with 5 million Free Slurpee Drinks. Happy Slurpee to everyone!
This offer is also good towards GAS purchases. See more details: Private offer for new members only! Sign up for Plink today, make a $25 purchase at 7-Eleven by Sunday, 7/21 11:59 EST, and we'll give you 1,000 Plink Points – enough to redeem for a $10 Gift Card of your choice at places like Amazon.com, Target, Walmart, Kohls, Starbucks and more!
No 7 Eleven where you are? Don't miss out on Plink's offer for McDonalds! See below…

Disclaimer: This post my contain a link to an affiliate. See my disclosure policy for more information.